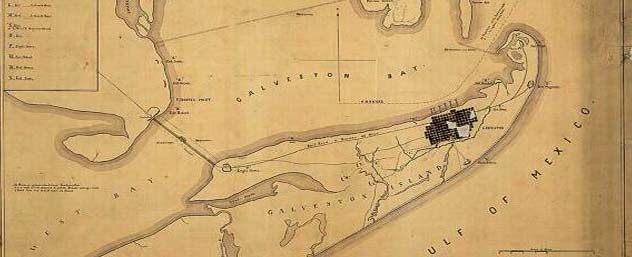 The Hotel Galvez - Galveston Island, Texas

Looking for the most haunted places on Galveston Island? Believe it or not there are hundreds of spots on Galveston that have reported "ghostly" sightings. Considering the thousands that lost their lives in the 1900 storm alone that's not all that hard to believe. We've complied maps of some of Galveston's most haunted places in hopes to help out our fellow ghost hunters.
However we caution you - many of these places are private property!! If you trespass and become a pushy investigator it's likely that the places on this map will become off limits to other investigators in the future. Be respectful! To the living and the dead!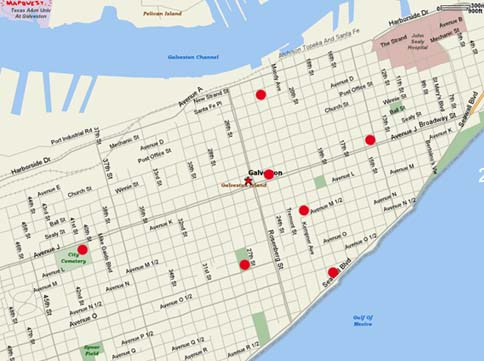 Map One
Click on the map above to get a larger and printable version. This is only what we believe to be the top 10 most haunted places on the island! If you'd like a more detailed map that will show you all the delightful little places to hunt - then look below. You can purchase a much more detailed map - with exact addresses and descriptions of each haunted place both below and in the Haunted Galveston store.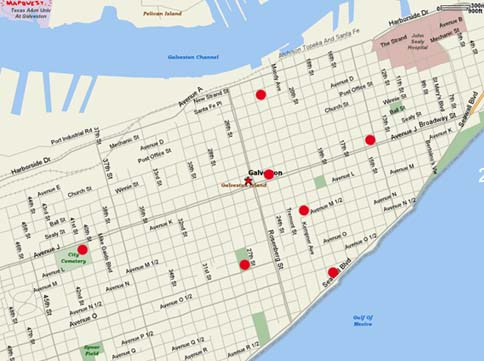 Detailed Map
$9.99
Buy the detailed version of the Haunted Galveston map!!! The only one of it's kind on the internet this map is guaranteed to take you to all the spooky places located on the island! We've spent months working on it and have finally come away with one of the most detailed descriptions of all the haunted places on Galveston Island. Enjoy!
We accept payment through paypal and amazon honor system at this time. Both are totally safe and guard your information with secure websites that you can trust.